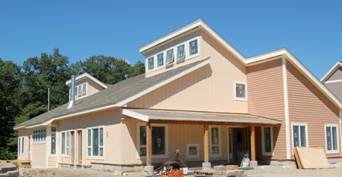 The Common House at Camelot Cohousing is the center of our neighborhood, both physically and socially. It's the place where the community comes together -- for shared meals, for games and entertainment, for meetings, for parties, for hobbies and activities.
Our Common House provides:
Spectacular Great Room for optional shared meals and large events. Features soaring clerestory ceiling, two-sided tiled fireplace, bamboo floor.
Large Commercial-quality Kitchen with gas ranges, two ovens and refrigerators, and commercial dishwasher
Children's Playroom with window into the great room, so parents can easily "check in"
Multi-use "Dojo" for dance, yoga, meditation, aerobics, music, etc.; expansion space from the great room for larger events
Cozy Living / TV room for shared viewing and casual socializing
Exercise Room with gym quality equipment
Four additional rooms for hobbies, meetings, sewing & crafts, games, etc.
Herb Garden off the kitchen, in addition to large shared community garden
South facing deck for outdoor dining and sunning, with easy access to multiple rooms
Easy access from both floors to heated swimming pool, including spacious screened back deck
Built for accessibility: elevator and handicapped accessible bathroom with shower
Paved courtyard for outdoor cooking, patio tables and children's play
Entryway with mail boxes and coat area
Internet service
Low-toxicity and environmentally responsible building materials
Well insulated 2x6 construction & lots of natural light, just like all our individual homes
All residents have full use of the common house. It's like having a luxury recreational facility next door to enjoy with neighbors and friends.